California Healthy Kids Survey
October 20, 2021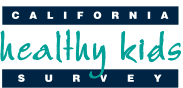 The California Healthy Kids Survey (CHKS) is an anonymous, confidential survey of school climate and safety, student wellness, and youth resiliency administered to our fifth grade students each year. This important survey will help provide data to improve the school learning environment, academic achievement, and the health and well-being of our youth. It includes questions on the supports provided to children; school connectedness, climate, and safety; and risk factors such as violence and substance use. The CHKS is part of a comprehensive data-driven decision-making process on improving school climate and student learning environment for overall school improvements; it provides valid indicators to promote student engagement and achievement, safety, positive development, health, and overall well-being. A copy of the 2022 student survey can be downloaded by clicking here.
In addition to asking students about the school environments, we also administer the California School Parent Survey annually. This survey is designed to provide teachers, administrators, and other school staff with information directly from parents that can be used to foster positive learning and teaching environments, parent involvement, and student achievement, health, and well-being. We are asking parents to take a few minutes to complete the 2022 survey to help us know how we can continue to improve our programs and environments to best support our students and community.
Please click on the link below for your child's school to complete the survey and provide your input.