Board of Trustees Meeting Agendas
The Savanna School District Board of Trustees usually meets on the second Tuesday of each month with the Open Session beginning at 4:30 p.m. in the District Office Multi-Use Room located at the 1330 S. Knott Ave, Anaheim.
Click on any of the links below to read or download Agendas from upcoming or prior meetings. Agendas will be posted on this site 72 hours in advance of each regularly scheduled meeting.
Please note that the January 2021 Regular Board Meeting has been rescheduled to Tuesday, January 19, 2021.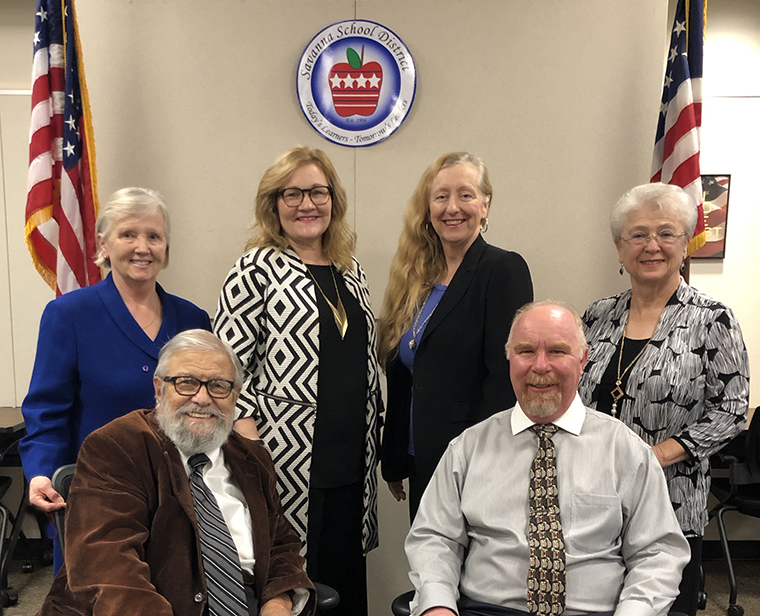 Pictured clockwise from top left are: Savanna School District Superintendent Dr. Sue Johnson, Board President Mrs. Tina Karanick, Board Clerk Mrs. Linda Weinstock, Board Vice President Mrs. Chris Brown, Board Member Mr. John Shook and Board Member Mr. Edward Erdtsieck.
Click here to send an email to the Board President
2021 Meeting Agendas
April 13, 2021 Regular Meeting Agenda
March 9, 2021 Regular Meeting Agenda
February 9, 2021 Regular Meeting Agenda
January 19, 2021 Regular Meeting Agenda
School Site Visits
Agendas are posted in the event three or more Board Members attend the site visit. In the event fewer than three Board Members are present, the meeting will be adjourned for lack of a quorum.
February 19, 2020 Hansen School Site Visit
February 20, 2020 Reid School Site Visit
March 2, 2020 Cerritos School Site Visit