Welcome to Holder School!
Holder School, home of the Hawks, is a beautiful campus in southwest Buena Park. Educational excellence is our goal for each and every student; our exceptional staff works diligently to ensure success for all of our students.
At Holder School, we focus on teaching the Common Core State Standards. We use the Go Math curricula and Benchmark Advance English Language Arts curricula. Our goal is to provide our students with the necessary skills to become proficient and successful creative problem solvers, critical thinkers, and collaborators.
Holder School's Reopening Through Distance Learning
Welcome to Holder School! Based on the Governor's July 17 Order, we will begin the 2020-21 school year with 100% Distance Learning through the end of the first trimester for all students. The first trimester ends on Friday, October 30. If Orange County is removed from the state's COVID-19 monitoring list sooner than the end of the first trimester, the district will begin a transition process to shift to on-campus instruction. Even though this year is starting differently than we had expected, I am excited to see everyone through our on-line learning platforms and see learning continue.
Please know that our District is committed to ensuring that our Distance Learning Program is meaningful and representative of the high caliber of education that Savanna School District is known for. Students will be expected to attend daily to take full advantage of daily live standards-based lessons, rigorous and engaging pre-recorded lessons, small group instruction, and grade-appropriate assignments. Students will be graded on the assignments they submit; grades with progress toward their grade level standards will be issued. Please see sample learning model below. Each teacher will reach out to families with specific classroom times and expectations.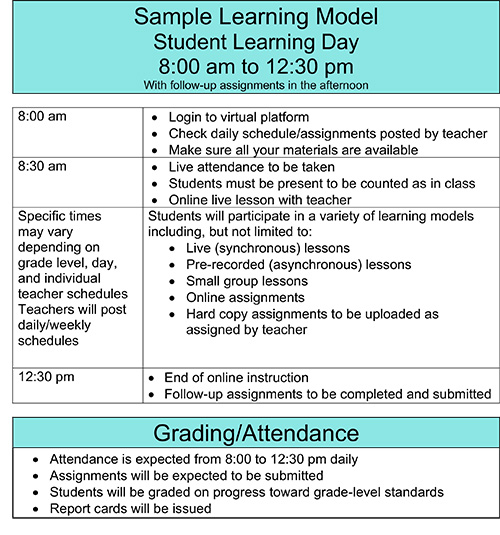 Click below to watch a welcome video from Mr. Blade, Holder School Principal.
Holder School's Instructional Program
Our instructional strategies and practices are aligned with the Common Core State Standards. Holder staff members provide our students with a high caliber learning experience in a caring and nurturing environment so that students feel valued and respected. We desire that all of our students develop and maintain a love for learning! We are continuing our focus on Benchmark Advance, including working with students toward mastering academic vocabulary, becoming fluent readers with analytical thinking skills, and learning to communicate through writing. These are critical to a student's continued success in their educational journey! These skills will be stressed through Distance Learning at all grade levels as we continue to equip our students to build for their future success.
Holder School is a community of caring people whose goal is to create a safe and nurturing environment where students feel included, respected and valued. Our dedicated staff is committed to upholding these expectations by being proactive in addressing student needs and concerns. We expect students to display the traits of being Holder H.A.W.K.S. - Honorable, Accountable, Welcoming, Kind, Scholarly.
Welcome to Kindergarten!
Click on the message below to learn about your child's kindergarten year at Hansen School.